What is VPN?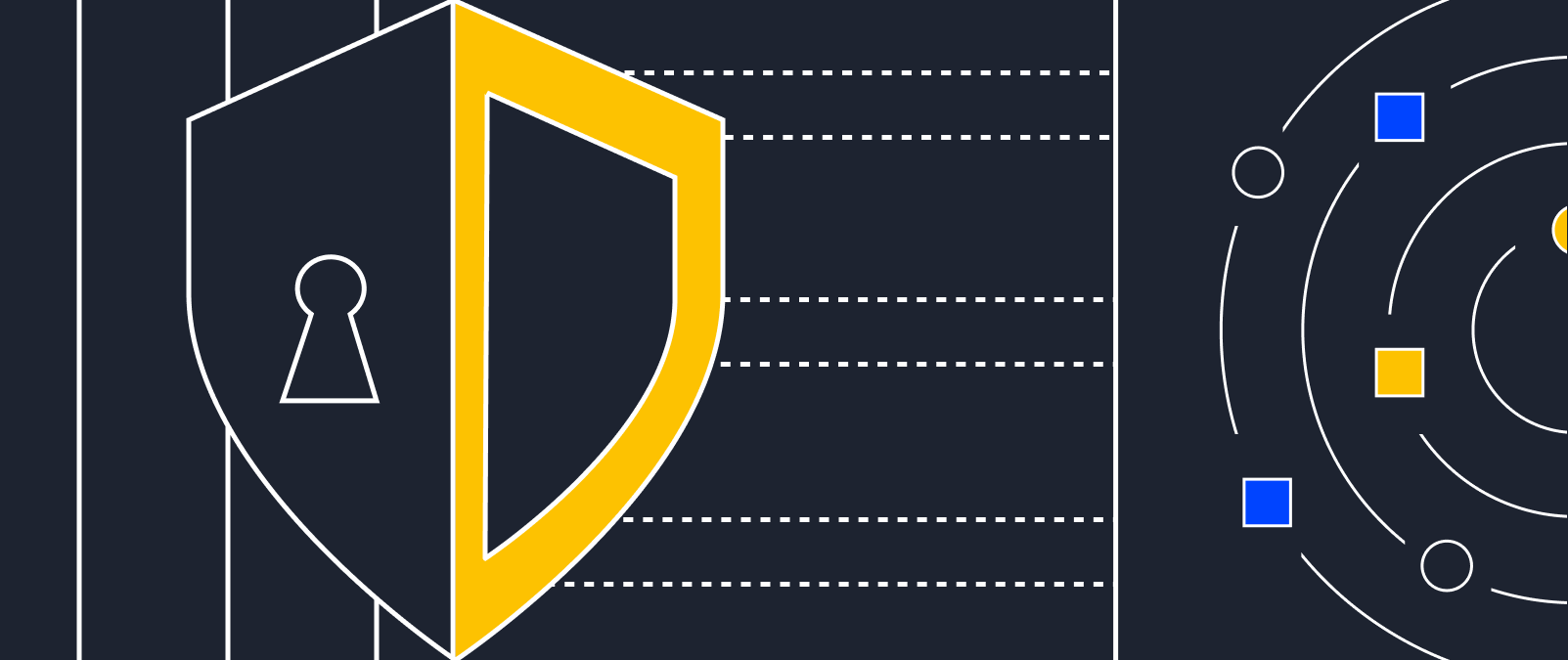 Today when Internet services have become part of our lives, online security is critical. With the emergence of online privacy issues and cyberattacks, VPN has become a mainstream term in technology, and one of the most common solutions for protecting online privacy. In this article, we take an in-depth look at what a VPN is, how this technology works and why it has become an essential tool for internet users.
VPN. What is it in simple terms?
A VPN (Virtual Private Network) is a secure and private network that allows users to browse the Internet without worrying about online privacy, data theft or censorship. Simply put, a VPN is a protective shield that provides a secure connection between your device and the internet. That's what a VPN is. It means that no one but you and the VPN server can read what you send or receive from the Internet.
Using VPN, you can protect your data from theft and leakage, ensure anonymity online, and provide secure access to network resources within your organization.
What does a VPN do?
What a VPN is used for is a frequent question. A VPN (Virtual Private Network) can be used for a variety of tasks related to security and protection on the Internet. What a VPN does:
Protect your personal data, such as passwords, banking information and private messages, from access by third parties, including hackers and cyber criminals. A VPN hides your IP address and encrypts all the traffic you send and receive. This makes it impossible to track your online activities and also prevents leakage of your personal information.
Protect you from malware, such as spyware, viruses, etc.
Ensures security on public networks. Open Wi-Fi networks can be vulnerable to cyberattacks and can be used by attackers to gain access to your personal data. A VPN can protect your online activity and prevent access to your data on open Wi-Fi networks.
Enable operation from remote access. If you work from remote access, using a VPN can help protect sensitive data and ensure a secure connection to your company's server.
Increase the speed of your Internet connection, especially when using open Wi-Fi networks or when connecting to servers in other countries.
Provide anonymity: A VPN can help you stay anonymous online by hiding your IP address and location.
However, using a VPN does not guarantee complete protection and privacy. It is important to choose reliable VPN providers and follow the necessary security measures when surfing the Internet. You should also be aware that using a VPN can slow down the speed of your Internet connection. Also, some websites and services may block access to their resources.
VPN service - what is it?
A VPN service is a service that allows the user to use VPN technology to protect their online activity. VPN services allow you to secure and anonymise the internet, hide your location and bypass geographical restrictions. However, it is worth remembering that using a VPN service is not always legal and some services may store logs of your activity.
There are many VPN services available, and each may offer their own features and characteristics. Some of the main types of VPN services include:
Paid VPN services are the most common type of VPN service that provides access to an encrypted network for a monthly or annual fee. These services usually offer a large selection of servers in different countries, high connection speeds and protection against DNS leakage.
Free VPN services - these services are usually available without charge, but may be limited in functionality or connection speed. Also, some of them may store logs of your activity and use them for advertising purposes, so you should be careful when using free VPN services.
Corporate VPN services are VPN solutions used by companies to protect their internal networks and data. Such services are usually provided based on the company's own servers and can only be used by its employees.
Your own VPN servers are VPN servers that you can install and set up yourself using special software. This approach can be useful for those who want to secure their network and data without having to pay a monthly fee.
Browser-based VPN services are VPN solutions that are built into a browser and designed to protect users on the Internet. Such services are usually free and can be useful for those who do not want to install separate software on their device.
How to deploy a VPN server?
A VPN (Virtual Private Network) works by creating an encrypted and secure connection between your device and a VPN server that is located in another part of the world. This connection takes place over the internet and allows data to be transmitted between your device and the server in encrypted form.
When you connect to a VPN, all data that you send and receive over the Internet goes through the VPN server, which protects it from access by third parties. The data is encrypted using different protocols such as OpenVPN, IKEv2 or L2TP/IPsec, depending on which VPN protocol is used.
To use a VPN, you must first install a VPN client on your device which allows you to connect to a VPN server. You can then select the server you want to connect to and enter your username and password if required. Serverspace provides several ways to deploy a VPN server.
The first is a service where you can deploy a configured server with StrongSwan or SoftEther VPN software pre-installed on it.
Cloud VPNRun a server with pre-installed
SoftEther VPN
50 Mbps, 5 locations
How to configure a paid VPN server in the Configured Servers service:
go to the Control Panel under "Configured Servers";
select the software on the basis of which the server will be deployed;
select the required location and bandwidth;
add users as needed;
and click the "Create" button.
You will automatically have a server deployed with the selected pre-installed software.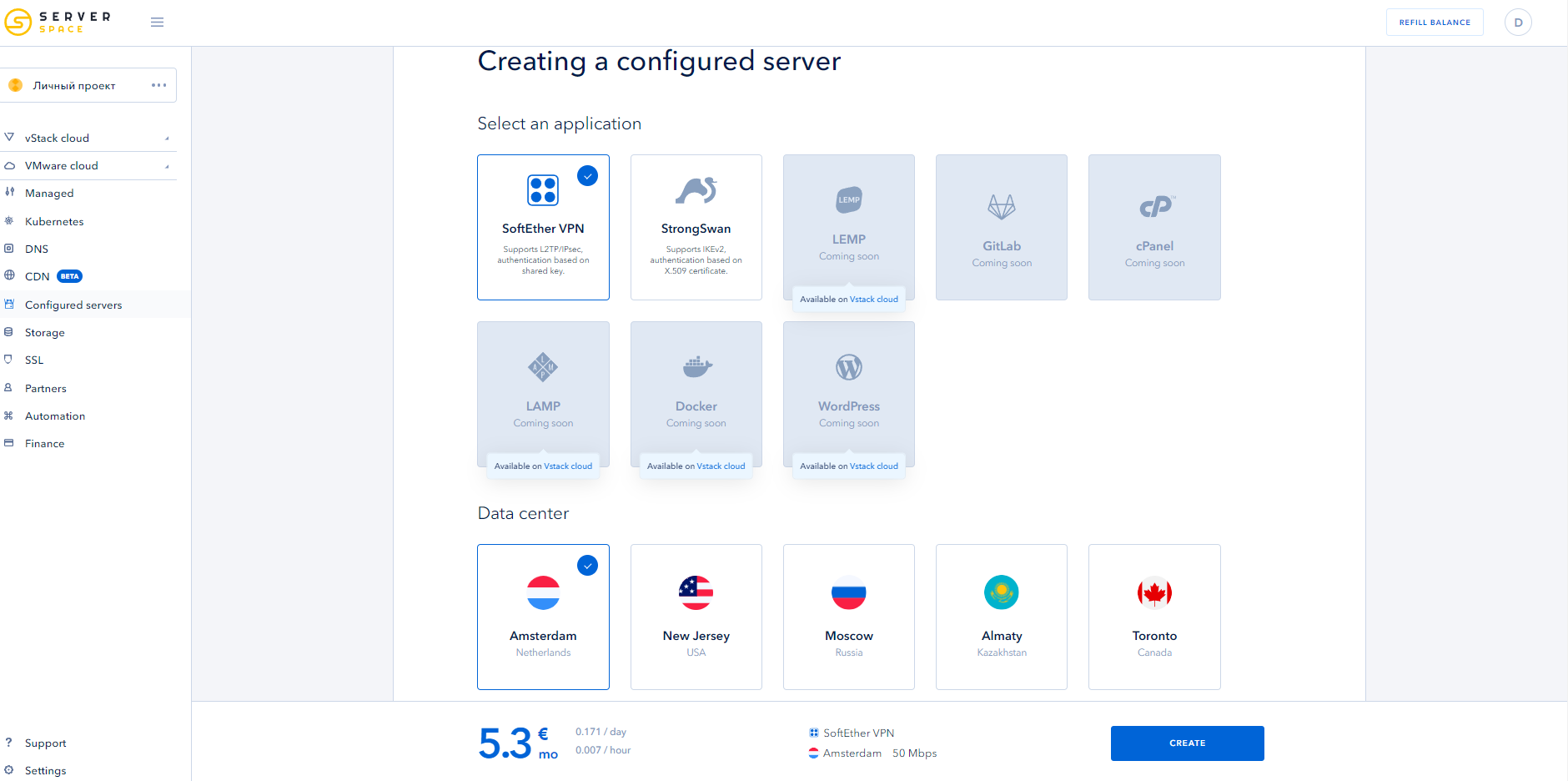 If you need to increase the bandwidth, you can change it when editing the server. To do this you need to open the server details, click on the "Edit" button and select the desired bandwidth. Then be sure to save your settings.
Also in Serverspace you can create your own VPN on VPS server, i.e. deploy a server and install the software to create your own VPN-server, such as WireGuard or OpenVPN.
Cloud VPS ServerRun a VPS virtual server
with preinstalled Linux or Windows
from €4/mo
You can find instructions on how to set up your own VPN server in our knowledge base:
In this article we looked at what a VPN means, how it helps users and how to set up a VPN server. A VPN is an important tool for internet security and privacy. It allows users to bypass geographical restrictions, protect personal information and provide secure connections on public Wi-Fi networks. Overall, a VPN is an important tool for anyone who values their security and privacy on the Internet.