What are cloud services?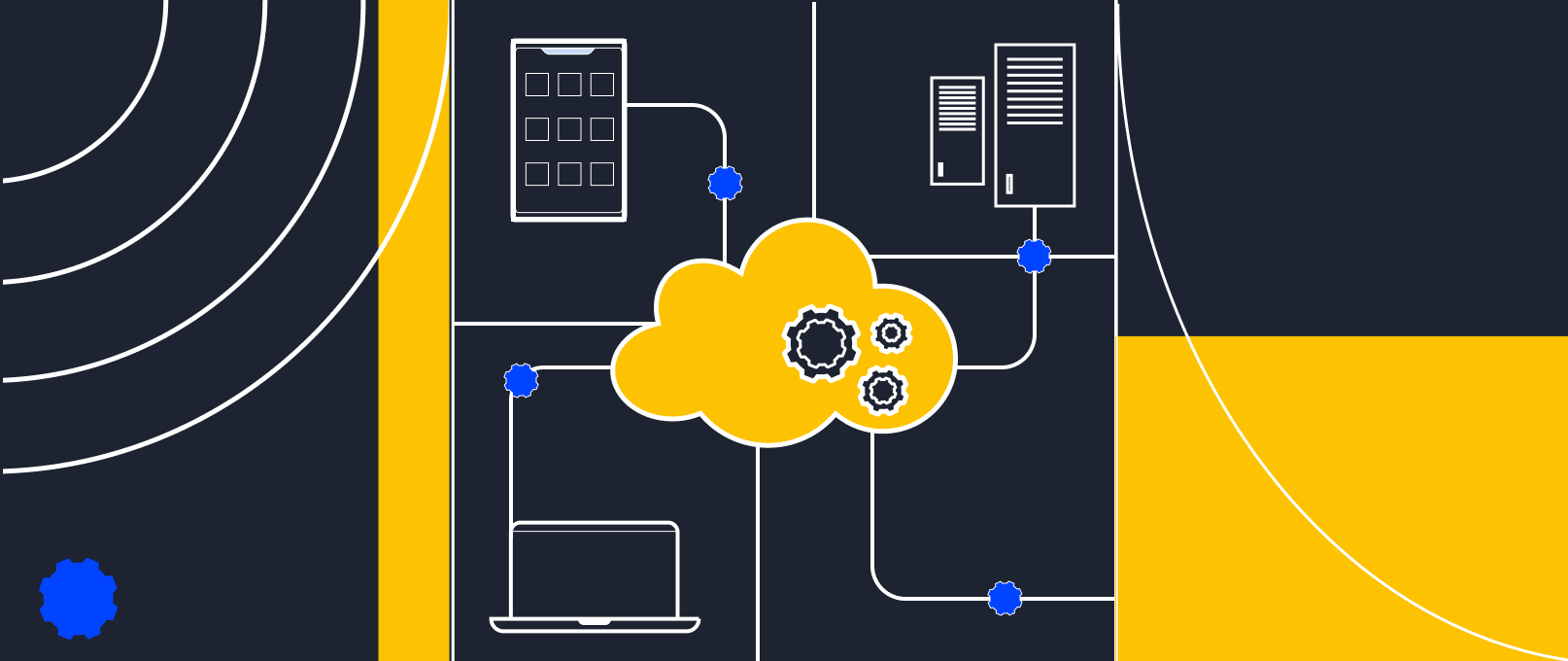 Information technology has made its way into everyday life, and we are increasingly encountering the "cloud" term. But the understanding of the term can vary depending on the context and user perspective. In the most common interpretation, the cloud refers to an environment that provides convenient access to applications, content and data from resources that are of secondary importance to the user.
Cloud infrastructure is an environment where you can deploy virtual machines (VMs) remotely. It is based on physical servers and a hypervisor, software that allows VMs to be managed on a physical server. The hypervisor creates a virtual environment that isolates each VM's operating systems and applications from the others, allowing them to run independently. It emulates hardware resources and manages virtual machine access to physical resources such as CPU, memory, disk space, and networking.
We will look at the different forms of cloud services and their capabilities. We will learn about Infrastructure as a Service (IaaS), Platform as a Service (PaaS) and Software as a Service (SaaS), and how each can be used in different industries.
What is cloud service?
Cloud service is a technology that provides access to computing resources, data storage and applications over the Internet. They are based on a virtual infrastructure, which consists of remote servers and special software that allows managing this infrastructure. The essence of cloud services is to provide access to computing power and infrastructure via the Internet. There are several types of cloud services, and the most common of them: IaaS (Infrastructure as a Service), SaaS (Software as a Service) and PaaS (Platform as a Service).
Cloud services are based on remote data storage and information processing on remote servers, which frees users from the need to have physical infrastructure on their devices. Cloud services allow users to scale rapidly, update resources, and provide high performance and efficiency.
Cloud services reduce infrastructure and maintenance costs. Users can rent only the resources they really need. This is especially important for smaller companies and startups that can avoid large investments in their own servers and software. Cloud services also provide flexibility and scalability, allowing users to increase or decrease resources according to their business needs.
The capabilities of cloud services span multiple use cases. They allow you to store and process data, run and scale applications, collaborate on projects and share information in real time. Cloud services are also highly available and resilient to keep business processes running and protect data.
The use of cloud services is not limited to the business sector. Individuals can also use cloud services to store and share personal data, backup photos and documents, stream music and videos, and access applications and games on a variety of devices.
Cloud services have become part of today's information world, providing users with flexible and convenient solutions for data storage, application development and computing tasks. They are changing the way resources are managed and opening up new opportunities for users.
Cloud services types
Let's explain what each type of cloud service is:
Infrastructure as a Service (IaaS) offers the option of leasing virtual infrastructure including virtual servers, storage and network resources. Users are given full control over the operating systems and applications deployed on the virtual machines. They can scale resources according to their needs, paying only for the resources used. IaaS allows companies to avoid physical infrastructure costs and focus on application development and deployment.
Platform as a Service (PaaS) allows developers to build and deploy applications without having to manage infrastructure. It provides an environment and tools for application development, including servers, databases, development and monitoring tools. PaaS allows developers to focus on building application functionality, bypassing the tasks of setting up and managing infrastructure. This reduces development time and simplifies the application lifecycle.
Software as a Service (SaaS) provides ready-made applications available over the Internet. Users do not need to install or maintain the applications on their devices, but access the applications via a web interface or client application. Examples of SaaS include email, customer relationship management (CRM), accounting and financial systems, project management, and other business applications. SaaS allows users to use applications without having to worry about infrastructure and provides the flexibility to access applications from different locations and devices

.
Next, let's break down how cloud services help for different tasks.
Cloud Servers from €4 / moIntel Xeon Gold 6254 3.1 GHz CPU, SLA 99,9%, 100 Mbps channel
Cloud services for business
In today's business world, more and more companies are turning to cloud-based web services to improve the efficiency and flexibility of their operations. Cloud-based web services provide a flexible solution for storing and processing data, as well as for running applications on remote servers.
The benefits of using cloud services for business.
Cloud services have their own staff of specialists who will maintain the infrastructure. Therefore, customers do not need to have a specialist responsible for this task.
Cloud services allow companies to avoid spending on physical equipment and infrastructure. They can rent only the amount of storage they need and pay only for the resources used. This reduces capital investment and operational costs.
Cloud services offer scalability and flexibility. Companies can easily increase or decrease storage capacity and infrastructure resources based on business needs.
Cloud services have multiple layers of data protection mechanisms, including encryption, authentication and authorisation systems, and data backup and recovery. This allows companies to be confident in the safety and integrity of their data.
Cloud storage services offer convenient tools for collaboration and information sharing. Teams can easily collaborate on projects, share files and documents, and have real-time discussions. This increases the efficiency and productivity of business processes.
Cloud services for business, including cloud storage and cloud internet services, provide companies with flexible tools to store, process and manage data. They help reduce costs, improve data security and enhance collaboration across the organization.
Cloud services for computing
Cloud services provide flexibility, scalability and efficiency in the use of computing resources. Users can rent and use only the resources they need and scale them as project needs grow. This avoids the cost of purchasing and maintaining your own physical hardware and optimizes resource utilization.
Cloud technology services offer several cloud computing models:
Public Cloud:
In the public cloud, companies and private users can rent computing resources from a cloud provider. The resources are shared between users and accessed over the Internet. The public cloud provides flexibility and scalability of resources and offers various services and features such as data storage, virtual machines and pre-installed applications.
Private Cloud (VPC):
A private cloud is an infrastructure built for use by a single organization. It can be deployed on an organization's internal infrastructure or leased from a specialized provider. A private cloud offers a high level of control, security and data privacy because it is used by only one customer. It can be fully managed by the organization or combine some services with a public cloud (hybrid cloud).
Hybrid Cloud:
Hybrid cloud combines public and private clouds, providing the ability to operate both models simultaneously. Businesses can use the public cloud to scale resources and time-intensive workloads, and use the private cloud for more sensitive data and specific security requirements. Hybrid cloud offers the flexibility to allow organizations to customize and optimize resource usage as needed.
Cloud computing services are becoming increasingly popular as they allow organizations to focus on their core tasks, bypassing the complexities of managing infrastructure and resources.
Cloud Services for gaming
Cloud services also allow users to play video games without downloading them to their devices and stream them over the Internet from remote virtual servers.
Cloud gaming services work on the principle of remotely processing and streaming game content to the user's devices. Instead of requiring powerful gaming computers or gaming consoles, users can connect to the cloud through their computers, laptops, smartphones or other devices.
Cloud services for gaming also have a high level of graphics performance. Due to the large resources of servers and GPUs, games are streamed at high resolution and without noticeable lag, providing high gaming quality. This is especially important for demanding graphical games that require large amounts of processing power.
Cloud services for video surveillance
Cloud-based video surveillance services allow organizations and individuals to effectively monitor and manage video surveillance systems through a cloud-based platform. These services provide the ability to record, store, view and analyze video footage from remote cameras over the internet.
The basic idea behind cloud services for video surveillance is that video files and streams from cameras are transferred to remote servers where they are processed and stored. Users can access their footage and manage their video surveillance system through a web interface or mobile apps, regardless of location or time.
Cloud-based video surveillance services also offer additional features and capabilities. For example, they can include analytics tools for motion detection, facial recognition, visitor counts, and more to automate monitoring processes and enable more efficient use of video footage.
Serverspace is one of the cloud services companies that provide users with the ability to deploy infrastructure in the cloud on their own. With the help of an intuitive control panel, you can quickly create a VPS server and set up a network. The provider offers flexible configurations that can be customized using a calculator. Users can choose the operating system, server location, number of vCPUs, amount of RAM, SSD and channel width. External traffic is not charged. Ready-made cloud servers with the selected configuration are deployed in less than a minute through the use of vStack hyper-converged virtualization platform.
The provider offers the option to deploy servers in one of 7 hosted data centers. Serverspace cloud service helps startups, IT teams, SMBs, as well as programmers and developers to deploy and manage cloud infrastructure in the cloud.