VMware cloud infrastructure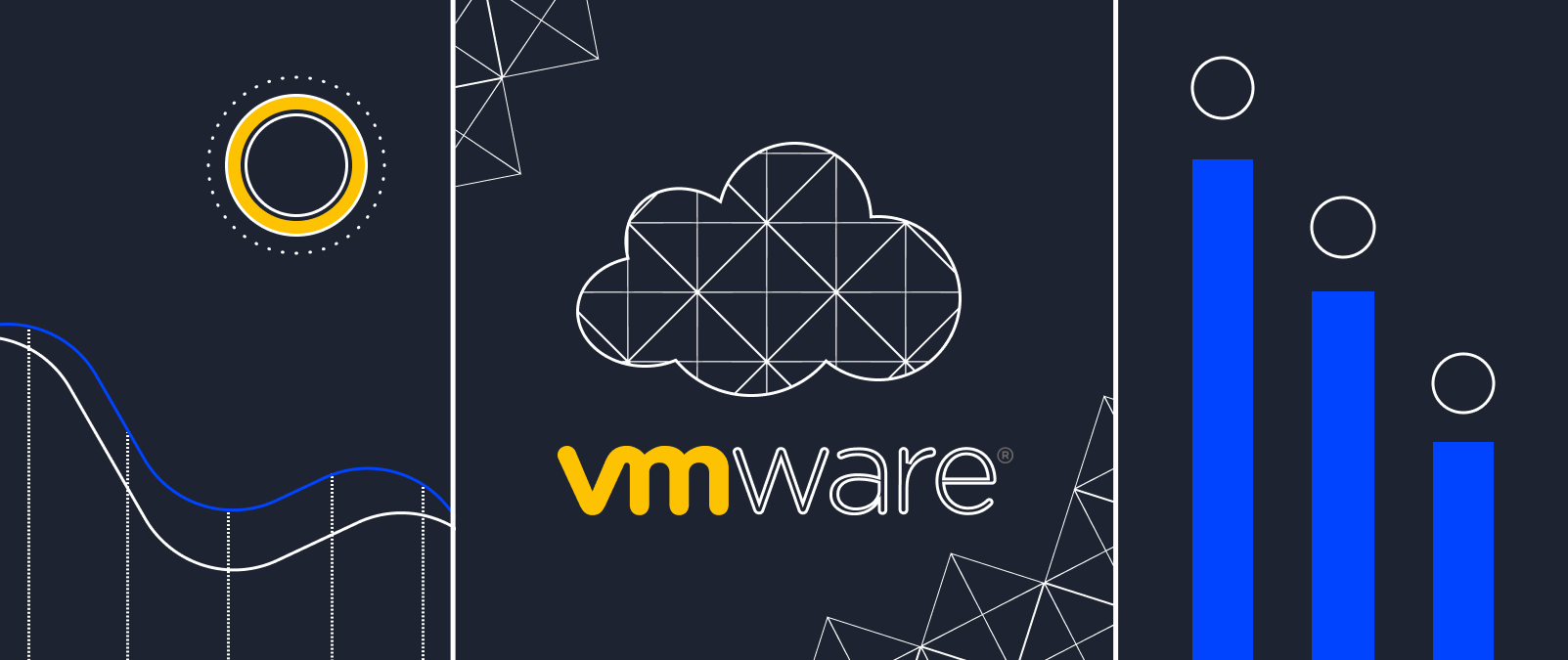 What is VMware?
VMware is a major developer of virtualisation software and services. The company's products are part of the IT infrastructures of many modern organizations. Virtualisation is a technology that abstracts away physical computer resources such as CPU, RAM, networking and disk space and creates virtual environments for deploying apps and operating systems.
The VMware history
The history of the company began in 1998 from computer science and software development experts, including Mende Dalfausa, Diane Green, Scott Devine, Eduard Bagdasarian, and Ellen Wang. These pioneers in virtualization had a vision to develop virtualisation software and tools that would optimize IT resources and streamline infrastructure management.
In 1999, VMware launched its first tool, VMware Workstation. This program allowed users to run multiple OSs on the single computer simultaneously, to provide an innovative approach to system isolation. As the company progressed, it began developing its server product line and introduced virtualisation at the data center level in the early 2000s.
In 2001, VMware's first hypervisor was released, originally known as ESX, which enabled virtualisation of servers and allocation of their resources to virtual machines. This advancement made it possible to deploy and manage virtual desktops for employees in organizations. Hypervisor served as the foundation for the development of VMware vSphere, the virtualization platform that is the company's core offering today.
As VMware continued to evolve its technology and offer new products and services, it quickly became a leader in the virtualization industry. Its solutions have become the standard for many enterprises and organizations worldwide. In 2004, the company was acquired by EMC Corporation for $635 million, which marked a significant milestone in its growth. EMC provided VMware with additional research and development resources, expanded its market reach and customer base.
Following the merger between Dell and EMC in 2016, VMware became a part of Dell Technologies, further strengthening its market position and allowing the company to focus on new product development. Today, VMware is a leader in the virtualization and cloud industry, delivering innovative solutions for enterprises of all sizes and industries. Its portfolio includes products and solutions for network virtualisation, mobile management, security, containerisation, and IT process automation, amongst others.
VMware virtual infrastructure
VMware Virtual Infrastructure is a technology stack of software products designed to build, manage and optimize virtualized IT environments based on servers, networks and storage. Virtualisation here is the software representation of the physical hardware: VMware VMs.
Virtualisation platform consists of:
ESXi. A hypervisor provided virtualisation of physical server hardware resources and allowed VM to be created, run and managed.
vCenter Server. A central management component that provides control over all hypervisors and VMs on the network. The administrator can manage and monitor the health of the infrastructure through a web-based interface or a dedicated VMware vSphere Client.
vCloud Director. Software to manage virtualisation resources: create, manage and monitor the virtual infrastructure as well as provide cloud services.
The benefits of VMware virtualisation
VMware virtual infrastructure enables organisations that want to optimise their IT resources, improve infrastructure management and business efficiency. What's good about VMware?
Virtualisation increases the level of utilisation of hardware resources such as processors, memory and storage by pooling them into resource pools and allocating them to virtual machines. This reduces hardware costs and also optimises the use of existing resources. Virtualisation also allows you to scale your IT infrastructure, adding or removing virtual machines as business needs change. This makes it easier to respond to increasing or decreasing workloads, and allows you to scale as your business grows.
VMware provides the tools to manage your virtual infrastructure and automate tasks. This simplifies administration of the IT environment, reduces the time spent on resource management and increases administrator efficiency. In Serverspace, users benefit from an intuitive management dashboard that provides the ability to manage the virtual infrastructure.
Virtualisation simplifies data backup and recovery as virtual machines can easily be backed up and restored to another server in the event of data failure or loss.
VMware virtualisation reduces training and support costs as organisations can use the same tools and procedures to manage physical and virtual resources. It also simplifies the process of implementing new technologies and integrating with existing systems.
VMware's virtual infrastructure provides many benefits for organisations looking to optimise their IT environment, reduce costs and boost productivity. VMware's scalability, flexibility and innovative solutions have made it a leader in virtualisation and cloud technology.
VMware public cloud at Serverspace
As part of IaaS, the provider provides a VMware public cloud - a reliable cloud infrastructure based on enterprise-grade hardware.
The Public Cloud is a cloud computing model in which cloud resources are made available to users on demand over the Internet. These resources are managed by a cloud provider who ensures availability, scalability and security of the services. The provider has a defined number of resources which are clustered together. These can be used by customers and create virtual machines with the required parameters as long as the provider does not have the resources.
Public clouds typically operate on a pay-as-you-go model, where users only pay for the resources they use. The public cloud is a popular solution for companies and organisations looking for a flexible, scalable and cost-effective solution for storing data and running applications.