What is own LAN advantages
If you have more than one server in your project, these servers could be linked onto one local network. Main advantages of this way is:
You can isolate some servers from the Internet, it should improve security;
Dedicated LAN allows you separate public traffic from your project to the clients and "technical" traffic between servers. It will improve your project response time;
You can make hosts in your local network "visible" to each other like in the office. It could be useful if your business has much "remote" employees.
Cloud Servers from €4 / moIntel Xeon Gold 6254 3.1 GHz CPU, SLA 99,9%, 100 Mbps channel
Steps to create isolated servers and LAN via Serverspace control panel
To create servers and connect these to the isolated network please do follow:
Login to the clent area, go to VMWare Cloud > Servers tab and click to the Create button:

Choose the first server options and click to the Create button: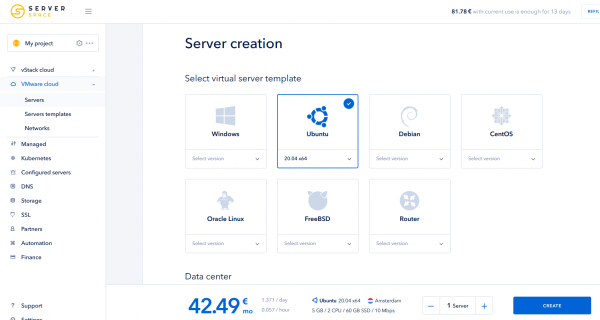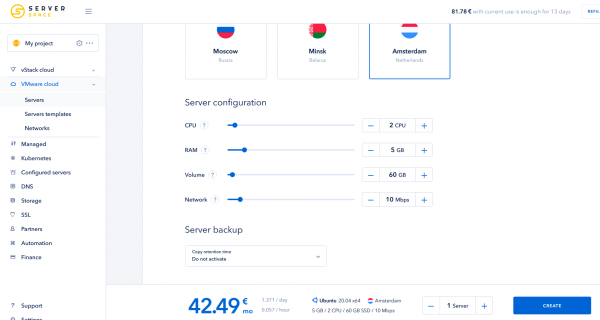 Create other servers by the same way. Make sure all your servers are located in the same location. As a result you should look something like this: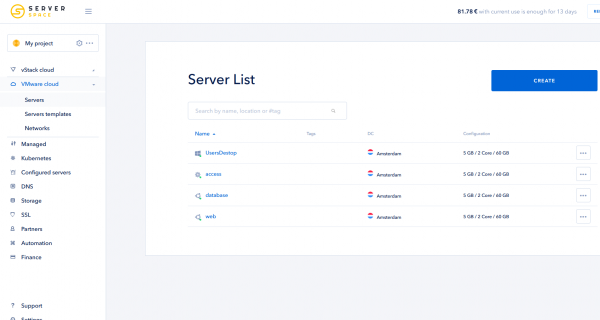 Local area network creation
To create your own LAN follow this steps:
Click to VMWare Cloud > Networks > Add Network button: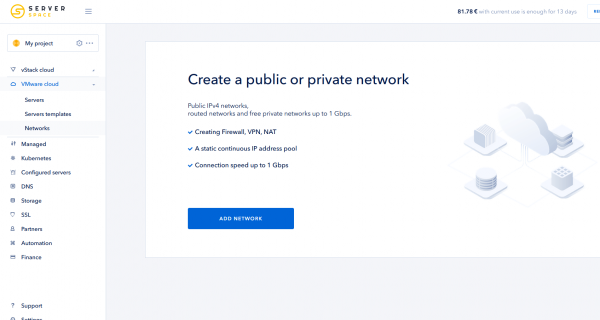 Choose network type, location and desired bandwidth. The easiest way is routed network, without dedicated gateway node. Location should be the same with your servers: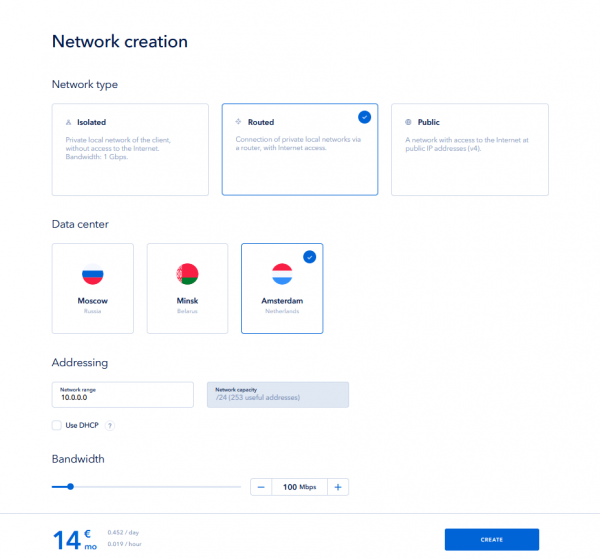 Assign private IP address to the server
To connect your server to the LAN you created, you should add the second private interface as described:
Go to your servers list, click to the desired server name, settings  tab, then add new interface and choose previously created LAN: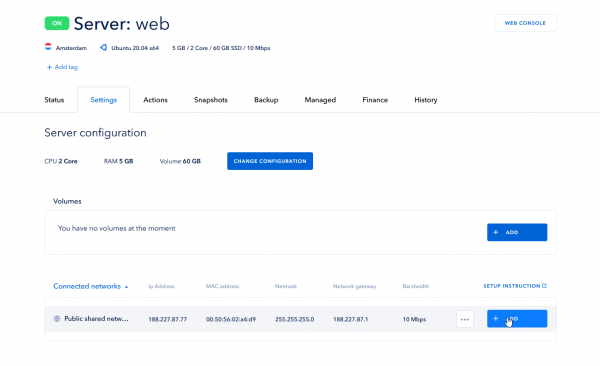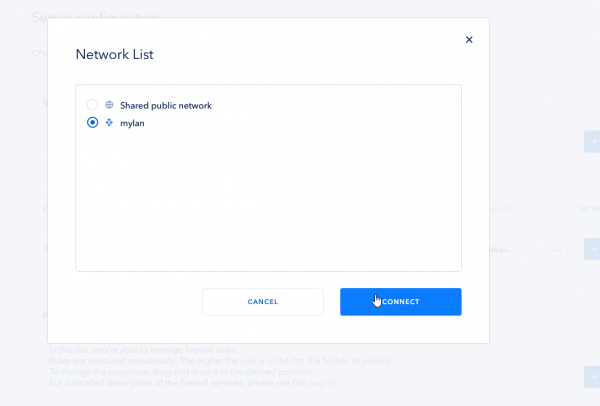 Remember seeing "private" LAN settings and interface MAC address: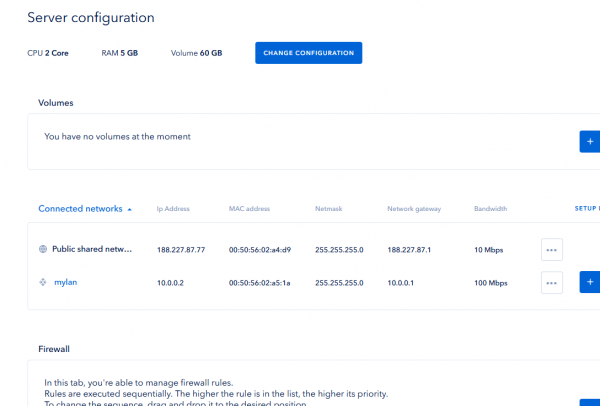 Next step you should modify server configuration file to add network settings. It is depends of server operation system, I will describe this step in Ubuntu.
Connect to the server via public IP, then run one command to know private interface name, remember it:
ip link show

Edit file /etc/netplan/99-netcfg-vmware.yaml via nano editor, add second IP settings in accordance to remembered info:

ens224:
dhcp4: no
dhcp6: no
addresses:
- 10.0.0.6/24
gateway4: 10.0.0.1
nameservers:
addresses:
- 8.8.8.8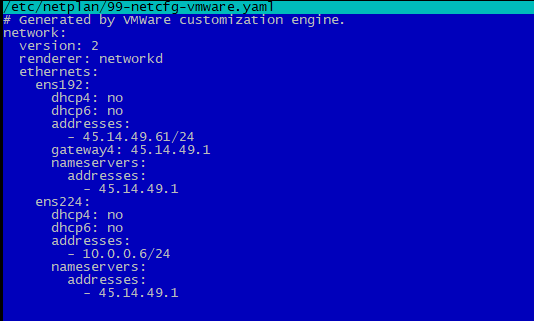 To apply settings run command:
netplan apply
Then just check private gateway accessibility:
ping <LAN_gateway_IP>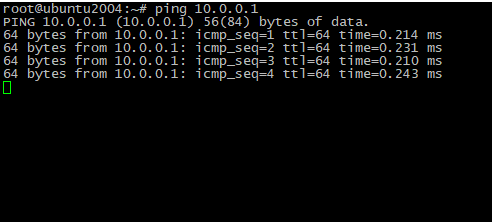 P.S. If you don't want to edit configuration files manually, you can rebuild server operation system via client area panel.
Isolate server from the internet
If you need to isolate server from the internet, you can follow this way:
Assign private interface as described previously;
Go to server settings page and add firewall rule to block all incoming traffic via public interface;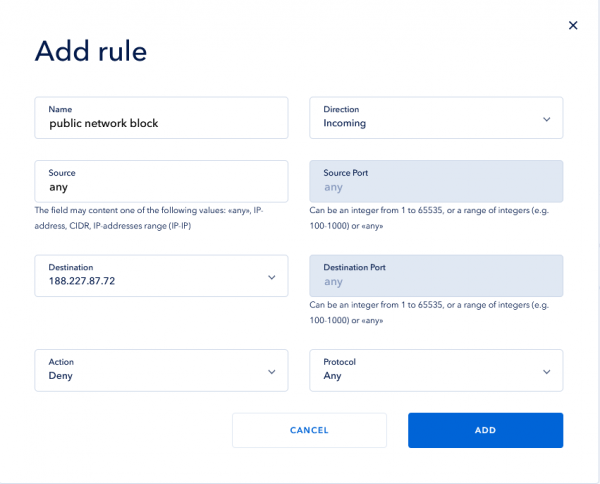 To restart network firewall and apply settings click Save button ant wait a little.

Conclusion
In this article we knew how to build your own private network via Serverspace control panel.
Cloud Servers from €4 / moIntel Xeon Gold 6254 3.1 GHz CPU, SLA 99,9%, 100 Mbps channel