Serverspace was added in G2 summer report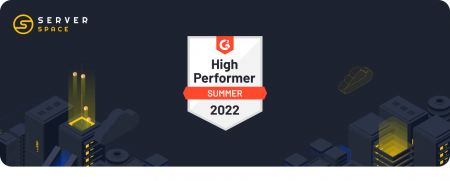 G2 Grid Report ranked Virtual Private Servers (VPS) Providers and divides them into 4 different categories: Leaders, High Performing products, Contender products, and Niche products. For the second time, Serverspace was named a High Performer in G2 Grid summer report 2022. Scoring Description means that users rate the service highly, but it has a low market presence compared to other providers.
Serverspace continues to meet the customer's needs at a high level, that's why the provider scored 74 points of the satisfaction rating. There are some detailed satisfaction ratings:
100% of customers rate Serverspace 4 or 5 stars;
100% of customers consider Serverspace is going in the right direction;
98% of customers evaluate in service the ease of use;
96% of customers note provider meets VPS requirements;
95% of customers rate highly the quality of the tech support;
93% of customers would recommend VPS provider to others.
Serverspace team appreciates our amazing users for their support and trust. We will be glad to see more detailed reviews. You can always leave your feedback on G2.com and tell us more about your experience, what you like and dislike about our service.